We would like to say a BIG BIG WELCOME TO DIANE, the newest member to the team who has been appointed Project CoOrdinator for Cambridgeshrie and Peterborough.  This role is only possible thanks to funding from The Evelyn Trust. The Project COordinator is our eyes and ears on the ground connecting with lcoal amputee families.  inviting them to the local monthly meet up and wekely fitness club.  There are 2 kay meet ups in this area: Cambridge and Peterbough and each area will have its own weekly fitness club too.
Meet Diane …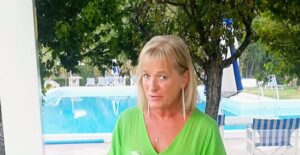 Hi – I was born in London at St Mary's, Paddington and survived being 2 and a quarter pounds and three months premature all those years ago!  I have lived on the South Coast for a number of years, travelled to New Zealand with my parents as my father was offered a position of managing a large hotel in Auckland.  I moved from Brighton 8 years ago to live at Isleham Marina in a lodge by the river Lark, surrounded by trees.  Pure chance as I was reading a magazine and saw an advert. The doors opened and never closed.  It is very peaceful here and I love it.  I have 3 feral cats who I adore.
I have held P.A roles in the media, travel company, American Express and am now semi-retired.  When I moved here I took on part time work at care homes, Newmarket races, blood donor centre. Obviously not all at the same time!  I joined various volunteer groups including W.I, helped supporting homeless runs in Cambridge, Cats Protection League and Steel Bones.
I sing in a local choir, enjoy the countryside, cooking, walking, interior design, visiting theatre, museums etc.  I love gardening although an absolute beginner but am  learning fast.
I am delighted to be working with Steel Bones as a Project Co-ordinator to launch meet-ups an fitness sessions and to be part of their growth and excitement for the future.  Such an amazing charity founded by Emma and Leigh Joy-Staines who are inspirational and I am so glad I met them when I moved here.  All just meant to be.
My motto is to live and enjoy life after coming through a major operation – this is not a dress rehearsal.