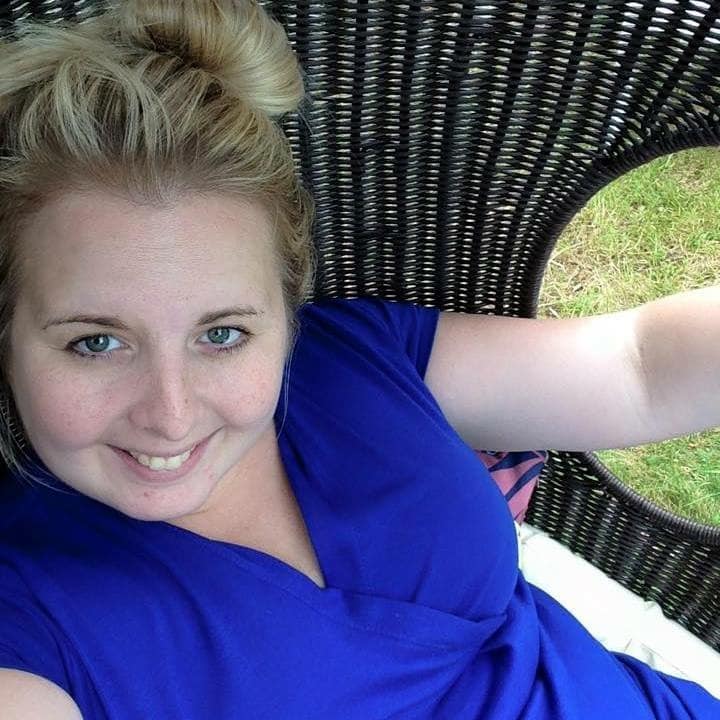 Emma Joy Staines
Founder
Emma grew up in London and relocated after University to Suffolk. She has held numerous leadership roles, at 16 she was invited to join the Global Young Leadership Conference in New York City working with the UN.
Read More
Emma also took a GAP year aged 18 to spend 6 months travelling across South Africa and teaching in Swaziland.  This was a dream of Emma's age 7 years old when she saw Nelson Mandela being released from Robben Island on the news.
Since then Emma completed a Masters degree at University in Creative Producing and was fast tracked through various roles in the Arts to Senior Management managing a fundraising development campaign in east London both before and after the 2012 Olympics.
Emma became a Networking Supremo in London on the Canary Wharf and City scene securing major connections and managing multiple levels of engagement with contacts to secure working partnerships that benefited all parties. During this time she and her husband, Leigh, looking after their growing family became the priority and so she took the leap into self-employment.
Since doing so Emma has launched an Empowerment Network and founded Steel Bones.
Emma loves spending time with her family, dog walking adventures with her children and hot chocolate with Disney films is always a special treat.
Emma is very passionate about providing amputee families with reliable support.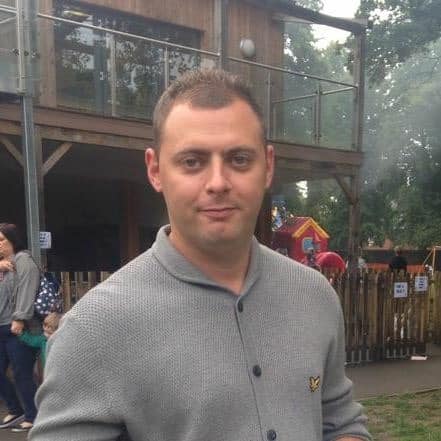 Leigh Joy Staines
Founder, Amputee Experience Volunteer & Trustee
Leigh was born in Lewisham with severe club feet.  He underwent many operations and hospital stays at Great Ormond Street & spent most of his childhood with his legs in a cast. 
Read More
Leigh's family was determined to ensure this didn't impact his life, he played football under the coaching of his passionate Dad and refused to use his lift pass at school. He experienced many tricky situations which with the support of his amazing family he overcame and became the strong, fair, kind man he is today.
Leigh has extensive experience as a Painter/Decorator and Printer in the family firm MBA Group along with holding a number of retail roles.  Leigh has managed social media, and websites for various businesses and loves computers.
Unfortunately, Leigh lost his leg in 2008 after an operation went quite wrong. It was a massive shock to Leigh and his family.  He has had various operations, procedures and prosthetic problems since.
Leigh is passionate about providing amputee families with the support they need to accomplish their goals.  He never wants an amputee family to feel alone as his family felt after his amputation. Leigh says " We must unite as a community as we are the only ones who truly know the daily challenges we endure through this life changing experience.
Leigh lives by his late Father's motto: "It matters where you come from, but what matters most is where you are going".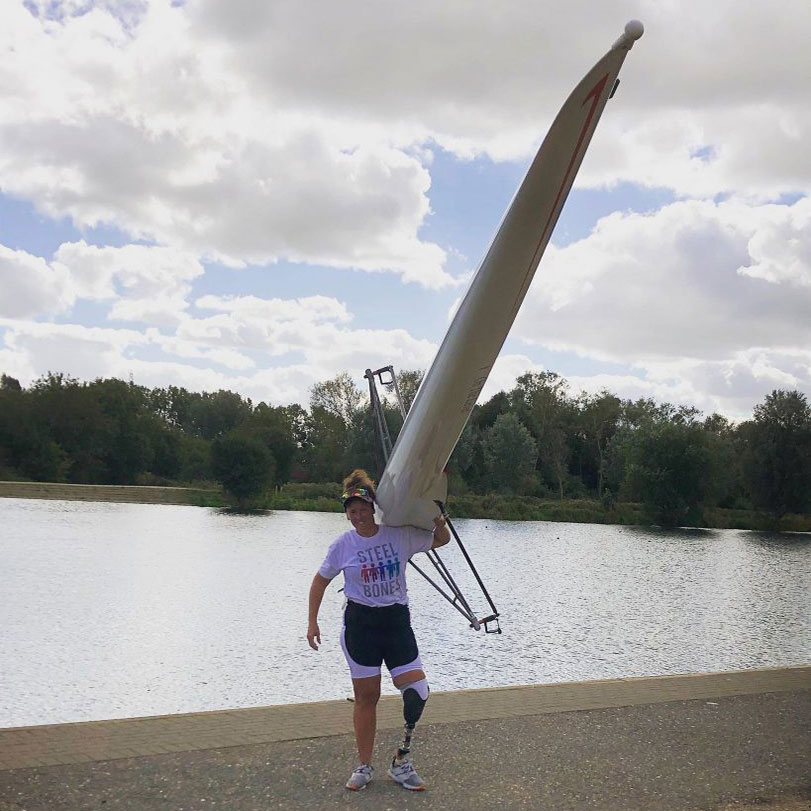 Alice Mason
Ambassador
Hello! My name is Alice Mason & I am on the development squad for the Paralympics for Team GB rowing.  I am also part of Peterborough city rowing club.  After losing my left leg below the knee, I had to change the sport I loved.
Read More
After losing my left leg below the knee, I had to change the sport I loved from netball, I choose rowing. I have only been an amputee since August 2017. I am married to a wonderful supportive woman & have a gorgeous daughter aged 9. I am honoured to say I am an ambassador of Steel Bones & fully support this charity.
I am lucky enough to say I have a full sponsorship from Fesa which is amazing. I love all things sport related & totally live my life to the full.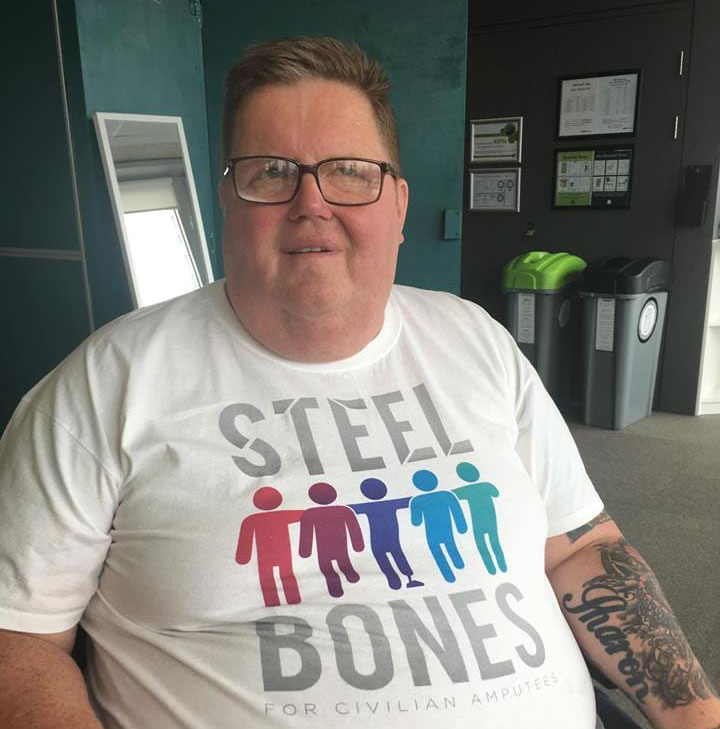 Colin Phelps
Chairman & Family Mentor Volunteer
Colin, born and bred in Kent, became an amputee at birth and has overcome many difficulties in his life. Colin has held various roles in the car industry during his working life and enjoys working as part of a team.  
Read More
Colin also plays an active role in his community. Colin has sat on various community committees and is now very proud to be able to lead Steel Bones in its exciting growth.
Colin loves fundraising and recently swam 101 lengths to raise funds for Steel Bones along with organising hugely successful raffles.  His family plays an active role in Steel Bones' life helping other families and organising events like Bingo nights.
Colin recently became Grandad to Baby Neo who he adores spending time with and he is thrilled Liverpool won the Title!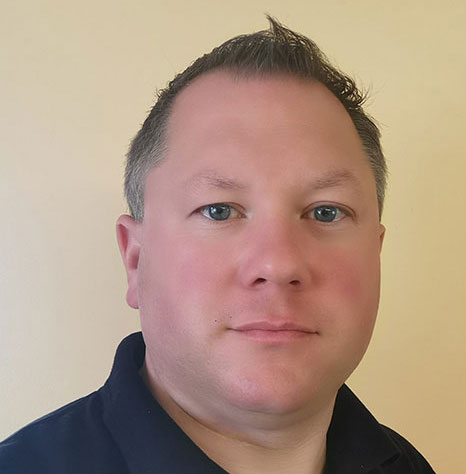 Adam Tilbrook
Trustee
Adam was born & bred in the Suffolk countryside and works in the family Landscape, Garden Centre & Coffee Shop business. He is the Honorary Commander for the 100th Operations Group, US Air Force at RAF Mildenhall.
Read More
The BAC works to build and strengthen the relationship and integration between the two communities through public events such as Easter Egg Hunts, Thanksgiving Lunches and assisting at local events.
Having met Emma & Leigh at business networking events, Adam was approached to see if the BAC would be able to assist in any way with a celebration day for Steel Bones, to get amputees and their families together. RAF Mildenhall responded by offering to host the day and provide lunch, refreshments and demonstrations from Military dogs as well as the opportunity to look around and sit in aircraft from the Base.
Adam is married to Claire and they have 2 daughters who enjoy family days out visiting zoos & farms or anything else outdoors.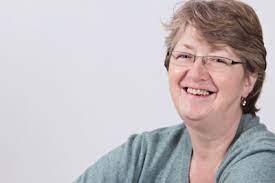 Linda Barbour
Wellbeing Consultant
Linda is committed to helping Steel Bones members and volunteers work through the toughest of times, transforming chaos into peace. Linda uses her 27+ years of experience, a combination of ground-breaking knowledge and skills.
Practical help is not enough when you have been affected by a change or traumatic event in your life.
Read More
Support, effective tools and strategies, adapting your mindset and knowing how to make self-care a priority are the elements that mean you can keep going when the going is tough.
Linda's results show that working from your strengths, building resources and dealing with emotions that are overwhelming, quickly and safely, are the keys to long term resilience and mental wellbeing.
Described as 'life changing', 'caring' and 'gets amazing results' by her clients, Linda is committed to making changes that last.
A proud mother of two remarkable humans and a besotted horse mum, Linda loves spending time outside in the countryside, renovating her new home and being with family and friends.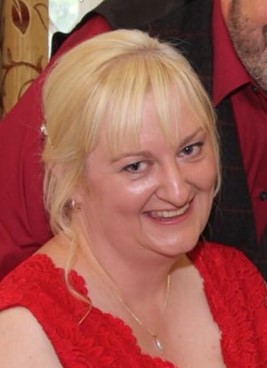 Kate Skinner
Trustee
Hi, I am Kate.
I have been aware of Steel Bones and the support they give to civilian amputees for many years. I think my first recollection of Steel Bones was whilst at Addenbrookes disablement services where I saw Steel Bones being advertised.
Read More
I have been a below knee amputee for nearly 21 years and also have an upper limb difference since birth.
I have tried not to allow my disability to rule my life, but I am very aware that at times it can take over every aspect of my life, both physically and mentally.
I have enjoyed attending several celebration days with Steel Bones and have welcomed Steel Bones support when I have needed it.
A bit about me. I've been a nurse for nearly 30 years. starting my career in orthopaedics and general surgery. And for the last 21 years, I have been an occupational health specialist nurse, 20 of those within the NHS. Last year, I jumped ship and now work in the private sector, which can be just as stressful and rewarding in equal measures. In my day-to-day role, I support people in the workplace who is health may affect work or whose work may affect their health.
I make recommendations to management in line with the disability criteria for the equality act. I support employees with both physical and mental health needs.
In my other life, I am a wife to Craig, a mum to Ellis, a step mum to Rachel, Tom and Owen, and a Nana to Elsie(6 months old).
I love nothing more than the family round for a big roast dinner.
My other passion is live music, and there is no better band in the world than the levellers!!
I look forward to my new chapter with steel bones as a trustee,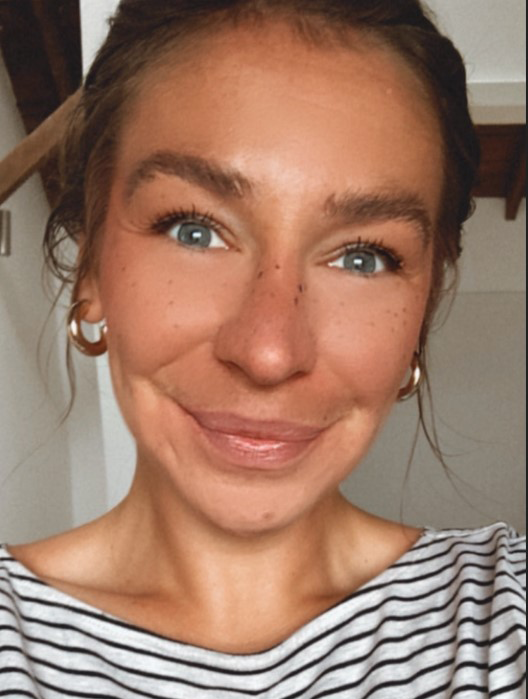 Lauren Mason-McKay
Trustee
I have been working within Housing and enforcement sector for the last 9 years.
I volunteered at a Steel Bones Celebration day and applied to be a Trustee member after my family became involved with the organisation following an amputation.
Read More
I hope I can bring a new perspective to the organisation through the lived experiences of families who are impacted by amputation and all the highs and lows that go with this transition. I love gardening in my allotment, visiting music festivals and spending time with my cherished cocker spaniel. I am so proud to be joining Steel Bones!
Sean Gibbons
Trustee
Hi! I'm Sean Gibbons and I'm delighted to have been accepted as a trustee for Steel Bones. My wonderful wife Kaze has been a member for around over four years and it has made a huge difference to her confidence and wellbeing.
Read More
There is a great atmosphere due to the fantastic people involved and I was thrilled to meet many of you at the 2022 Celebration Day. It was truly inspiring to see what you have accomplished as a community of like-minded people and to enjoy a great day in person.
My background is based in technology; I worked in a research centre from 18 years old maintaining equipment used in the manufacture of integrated circuits the trained as a field engineer for brown goods before moving to computer equipment in 1988. I've worked in sectors such as managed services; hotels; telecoms; retail & corporate field & onsite support; pharmaceutical; public sector and am now with a Japanese trading company.
Outside my family of Kaze, our two sons & mad dachshund, my passion is sport; I play League cricket and darts as well as 5-a-side football. I hold both football & cricket coaching badges and am Club Safeguarding Officer for my cricket club as well as being on the management committee. I'm a qualified First Aider and Mental Health First Aider as I wanted to give something back to family, friends and colleagues.
I enjoy reading, food, music, food, walking the mad dachshund, food, and anything Kaze tells me to do!! Oh, and food!
I hope to use my perspective as a carer & husband of an amputee to benefit this exceptional charity in any way I can. It's great to be involved and I look forward to meeting as many of you in the coming weeks, months & years.
Wendy Bearton
Legal & Benefits Case Worker Volunteer
Favourite colour: Purple.
Favourite place: Walking along the beach at Snettisham right up to the estuary.
Favourite job: working at the Citizens Advice Bureau.
Favourite memory: Buying my first Citroen 2CV6 car.
Read More
Strange likes: Tuna mayonnaise, red onion and a black olive sandwich (don't knock it till you've tried it, it's delicious)!
Strange dislike: Kids party balloons! Proper full on phobia!
Best way to spend a Saturday night: Babysitting my grandsons.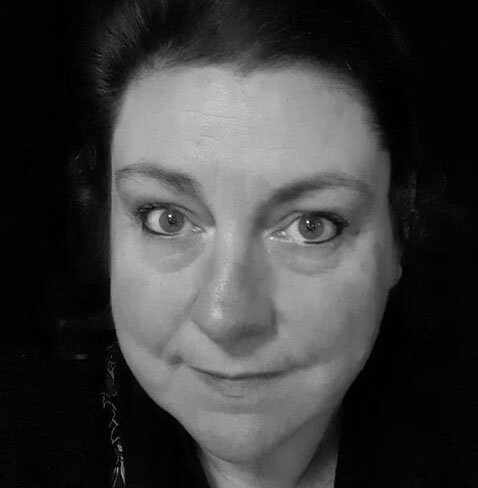 Billie Lawler
Honorary Treasurer
Billie got involved with Steel Bones after meeting its founder Emma at a business network meeting.
She offered to be a helping hand at Celebration Day in 2017 and loved every minute.
Read More
She saw what the charity was trying to achieve and wanted to be a part of its growth and the support it gives to the Amputee Community.
"Steel Bones has a family feel to it and the support is given through events, welcome packs, the Bones, family mentors and peer support groups is immense. I am humbled that my daughter and I get to help make it happen! I have seen the charity grow over the years and can only hope this continues year on year" Billie said.
When not helping SB, Billie is Mum to Erin, manages a Community Supermarket for a community centre (the 1st Citizen Supermarket in East Anglia), runs a Hygiene Bank and fundraisers with Rotary. She has worked as a retail manager for several large companies, opening new stores, recruiting and training staff and also managing hostels for homeless people too. She qualified as a holistic therapist at 30 and ran her own business for over 10 years. This is a woman who likes to keep busy!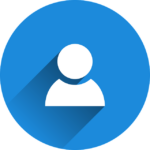 Garry Durnan
Family Mentor
Hi I'm Garry and I'm a Family Mentor with Steel Bones and without their initial help, I wouldn't be where I am today.
I'm originally from Glasgow but now live in Cambridge with my kids.
I was originally a chef but now looking at retraining as I would love to be a Counsellor to help others on this journey.
Read More
I lost my leg to infection after removing chondrosarcoma – a rare bone cancer.  I had my amputation in 2020 and I never looked back.
My favourite colour is blue.
My favourite place is with family.
Best memory is when they told me You are clear of cancer.
I hate arrogant people.
I love people that have can do attitude.
The best way to spend a Saturday is with the family.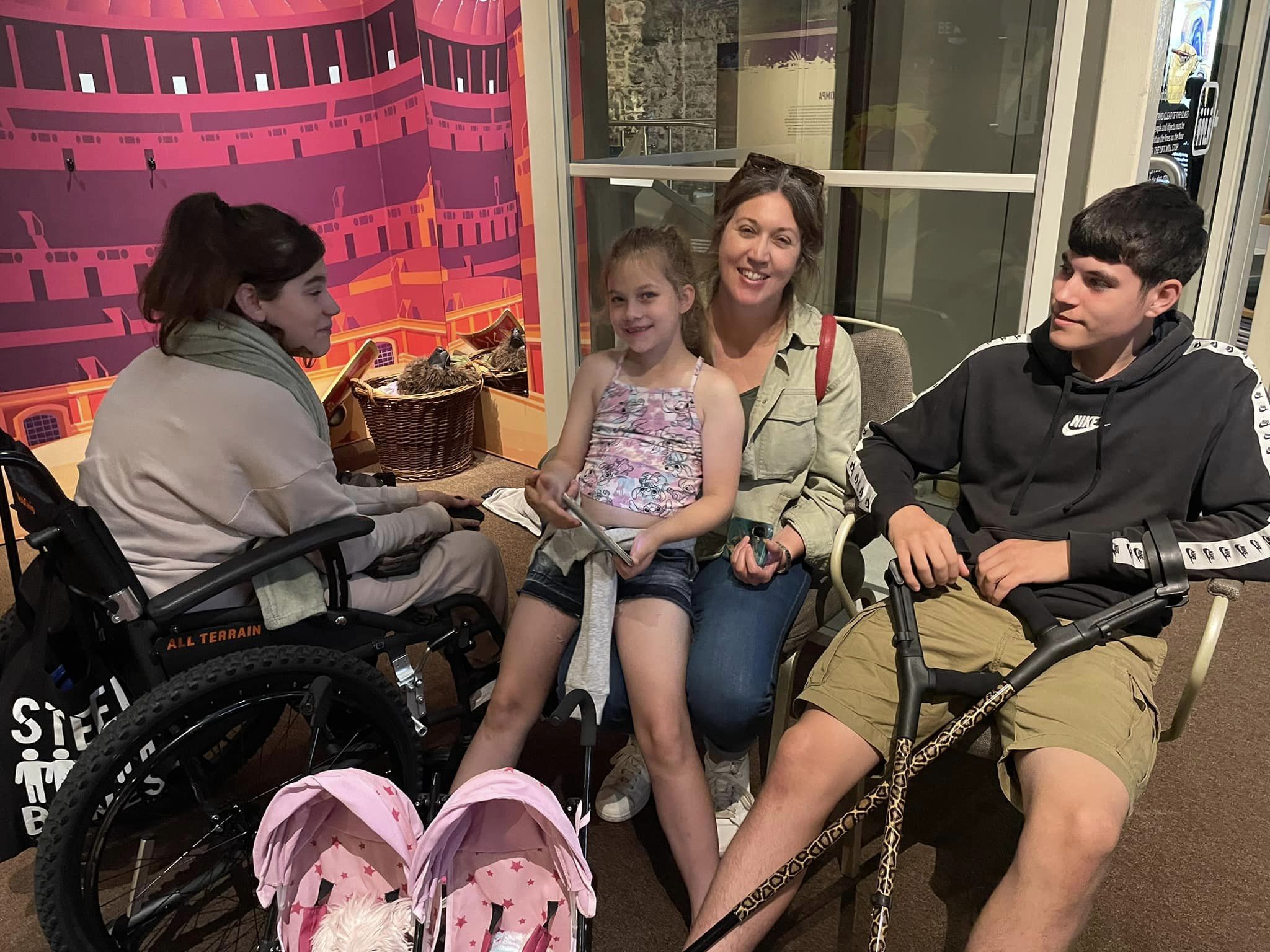 Rachel Haynes
Volunteer Coordinator
Hi! I'm Rachel, married to Stephen and we have 4 wonderful children.
One of our daughters was born with Fibular Hemimelia and had an amputation at 1 year of age.
Read More
We have been involved with Steel Bones since 2017 when I reached out to them. Amputee life can be a rollercoaster and as a family, we try to keep as positive as possible as the highs and lows can affect us all.
We have received incredible support, met many amazing people and attended lots of wonderful events.
I am a Relax Kids Coach and I'm also a Piano Teacher.
I love spending quality time with my family and escaping to the Beach.
Edward Bye
Trustee
I have lived in Suffolk most of my life so far apart from when studying BA (Hons) Dance at university in Northampton, and working away as a dancer. I moved in with my sister and brother-in-law at a young age.
Read More
My brother-in-law is an amputee, and I witnessed and supported the day-to-day difficulties and achievements an amputee faces.  This is the reason I chose to support steel bones and the community the charity helps.
After leaving university, I worked as a professional dancer and performer away from Suffolk in various roles. In 2016, f,ollowing a family loss I returned to Suffolk. It is then I began a career in adult health care working as a cafe assistant in a residential care setting. In the 7 years that have passed, I have progressed into multiple roles including moving and handling and dementia trainer, voice representative, and palliative care champion, resulting in my current role of a residential manager. Being part of a management team running a 60-bed residential care home with 80-100 staff members.
Alongside my residential role, I have co-owned a local dance school and continued performing at a variety of venues/audiences.
I aim to bring my creative, caring and leadership skills to steel bones to support the amazing work the charity does.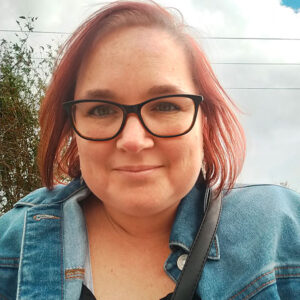 Vicki Rees
Administrator & Coordinator
Vicki lives in Suffolk with her 2 children Oliver and Jack, Mouse the dog and Tula the cat.  She has had a variety of roles in the past which has set her up with lots of experience dealing with all kinds of situations!
Read More
When Vicki was born it was discovered that she had Amniotic Band Syndrome which meant that she hadn't developed as she should have. This resulted in her right foot being amputated at 7 months old, her left ankle being fused and her losing some of the tips of fingers on her left hand.
As she has grown up as an amputee Vicki has a fountain of experience and is happy to offer any help and advice to other amputees to make life a little bit easier.
Vicki is a keen singer and can often be found performing in the car with all the passion of a star in the West End, much to her children's embarrassment! Singing with the local community choir or at events is one of her favourite things to do.
Vicki is thrilled to be working with Steel Bones and have the opportunity to give back to the charity that has supported her and her family so much.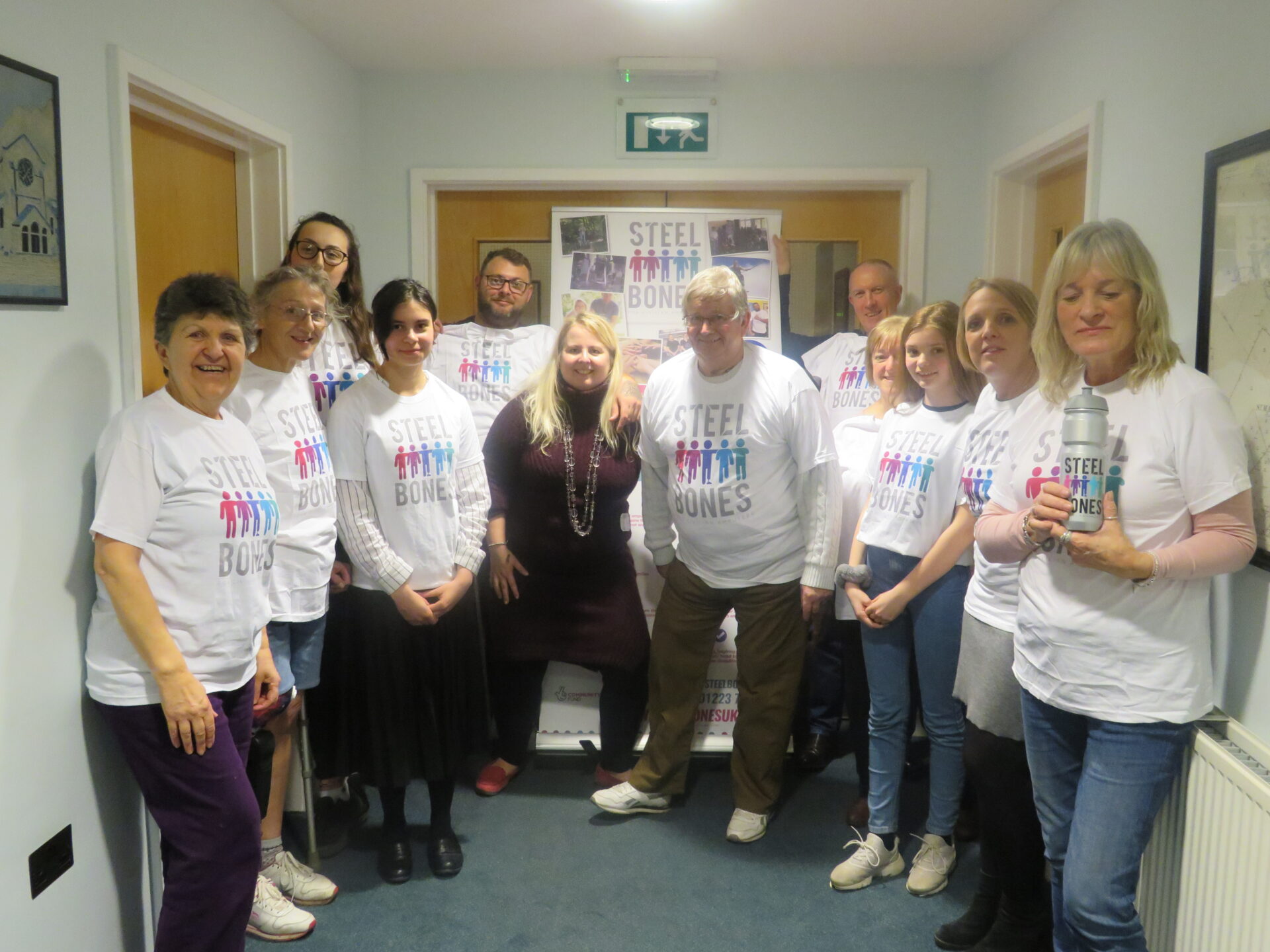 Steel Bones Champions
We have a team of volunteers who have completed our Induction program and help with all aspects of Steel Bones life.
They include:
Gary Pizzey, Linda Barbour, Andy Parker, Paul Sutton, Diane Gaskin, Maxine Osbourne, Clare Skidmore
Read More
David Wiseman, Kaze Gibbons, Allison Friday, David Richardson, Philip Pierpoint, Naomi Thurbon, Forbes Mutch & Jack Saunders.
We also have Young Volunteers who are a fantastic help:
Charlie, Erin, Tess, Oliver, Jack, Daniel, Levi, Kiera, Nieve, Honey, Daisy, Teddy and Sally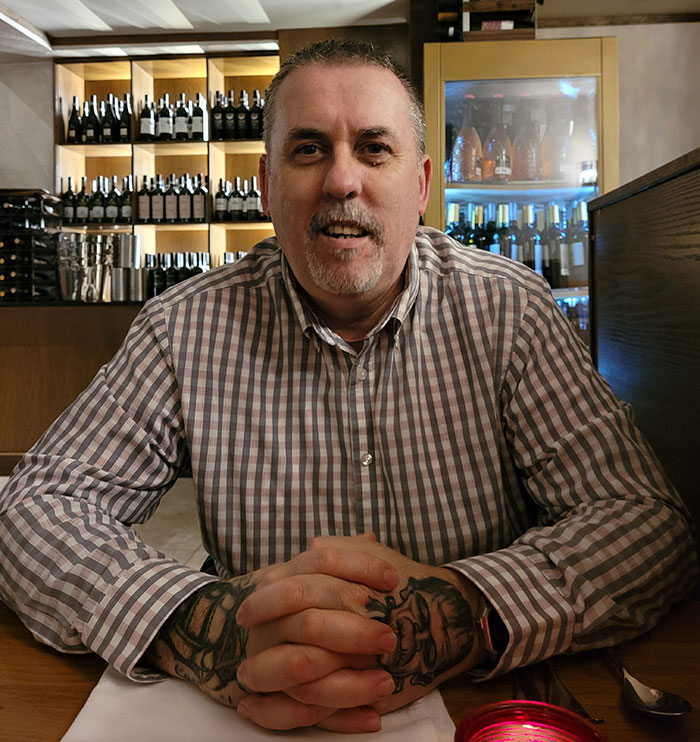 Kevin Smith
Computer Scene
Favourite place: Vienna, Brugges
Stange likes: Anchovies
Strange dislikes: Radishes
Favourite colour: Blue
Favourite Memory: My Wedding day
Read More
My hobbies: Travel, fishing & gaming
Favourite meal: Spaghetti Bolognese
Favourite pet: Golden Retriever and we have one called Keira
Favourite film:  Saving Private Ryan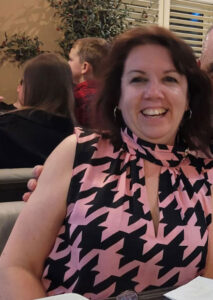 Mandie Smith
Computer Scene
Favourite place: The Lake District
Strange dislike:  Lots of small circles or bits bunched together!
Favourite film: Transporter or anything with Jason Statham!
Read More
Favourite colour: Turquoise
My hobbies: Netflix, crocheting and walking.
Any pets?  We have a gorgeous golden retriever.
Favourite meal:  Shepherds pie cooked by my husband!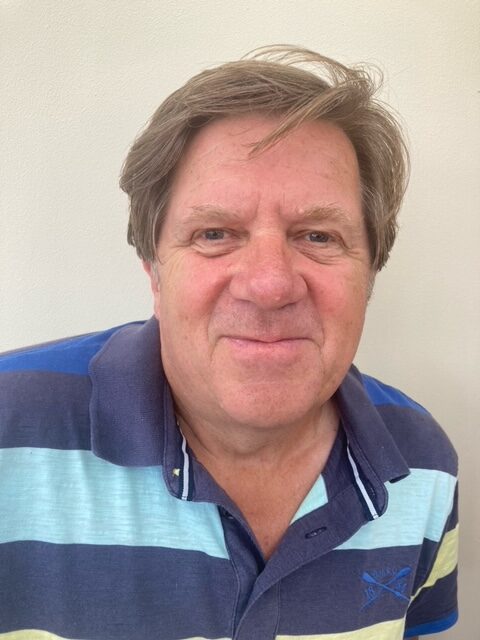 Gary Hawksworth
Trustee
Gary is married with a daughter and lives near Ipswich. He lost his right leg following a motorcycle accident in 2014 and has been a member of steel bones for a number of years.
Read More
He has worked for BT and the RAF for most of his career finally working as a business analyst contractor. His experience in a number of areas where he plans to help the charity including 25 years' experience in developing new services, marketing, organisational change and project management. He hopes to use this experience to help Steel Bones grow and develop so it can help the maximum number of people in the best way possible.
Address
Stirling House
3 Abbeyfields, Bury St Edmunds
Suffolk IP33 1AQ
Register here to receive your
FREE Support Pack