Steel Bones are thrilled to be one of the charities chosen by the new initiative, The Suffolk Apprentice, which is hoping to give a great start to someone in the county who has a great business idea. Each Apprentice works in teams to complete a series of tasks – such as marketing, planning, sales, fundraising, influencing – with each task supporting a Suffolk based charity.  Steel Bones was thrilled to be the subject of a task in May.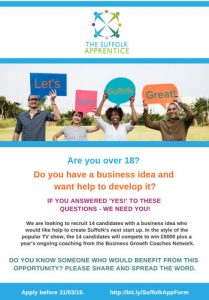 Founder, Emma Joy-Staines who was one of the Observers said: "Feeling like Karen Brady today !! #SuffolkApprentice is such a fantastic initiative pairing charities, businesses and Apprenticeships and we are really thrilled to be a part of it!"
Steel Bones Trustee, Laura Morrison of Your Telemarketing hosted the day and the first task for the Apprentices was a telemarketing campaign to raise awareness of Steel Bones and its need for sponsorship.  This is a highly successful campaign which has worked brilliantly in securing sponsorship for Steel Bones.  it also acted as an excellent task for the Apprentices who all did extremely well.
The second task was to create innovative fundraising ideas to contribute to the Steel Bones Annual Celebration Day on 21st July.  The ideas were fantastic and included a range of ideas including a Kilimanjaro trek on a running machine, sponsored gaming event, rock climbing event, disco and Design a Prosthetic Competition.
Thank you to our awesome volunteers Colin Phelps and Paul Clark for being superb Observers/Lord Sugar and Claude Impersonators 😜😜 we had great fun !! MASSIVE THANK YOU TO SUFFOLK APPRENTICE and YourTelemarketing!