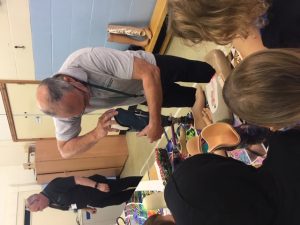 The workshops will be run by a group of volunteers led by charity founder Emma Joy-Staines, who found her family in need of support when her husband, Leigh had his leg amputated as the result of a botched operation.

Leigh said: "We are extremely excited to be working with Coltishall Primary. Our own children have experienced huge challenges with their friends misunderstanding and they struggle to explain things. Therefore, raising awareness and opening up the conversation is particularly close to our hearts. Coltishall primary have a fantastic commitment to providing all rounded life skills and awareness to their students and we are thrilled to play part in it."

The morning began with a brief talk through daily challenges which amputees face and also a reading of Steel Bones' newly published first edition of their Children's books.  The children heard from the amputees attending and asked some fantastic questions including 'when did you last go on a beach?' 'does your leg hurt when you take the prosthetic off?' 'how do you sleep with your leg'

The workshops included making a sandwich with one arm, which gave such a fantastic and real insight for the children into daily challenges.  An amputee artist, Leah Hadley, led an Art Workshop to share her disability-friendly creations along with the OpCare prosthetics team at Julian Hospital, who educated the pupils on prosthetics.

As well as the workshops delivered the visit to Coltishall Primary School included a taster of amputee football and the chance to try out mobility equipment including an electric wheelchair and scooter.  The children loved this and a penalty shoot out with the children using crutches to score gave some very healthy competition and excitement.

On 30th April 2019 Steel Bones visited Coltishall Primary School to work with KS1 and KS2 pupils to help them understand the challenges faced by amputees and learn more about inclusivity.