On 9th May, Jatinder Purewal, National Lottery Fund Officer visited Steel Bones at a meeting supported by Heath Court Hotel.  Jatinder met several volunteers that help make the charity happen day to day along with a number of families which it serves.  Jatinder was able to hear directly from the people who have benefitted from the funding and hear what practically that has done to improve amputee families' lives. 
Steel Bones is currently in receipt of a 3 year grant totalling £176,839 from The National Lottery Reaching Communities Fund. This contributes 53% towards the organisation's overall budget to fund the Family Mentor Peer mentoring scheme supporting amputees families in crises. This multi-year Reaching Communities Grant for Steel Bones brings vital support to a hidden, ever-growing community of civil amputees and their families.  There are an estimated 60,000 amputee patients being treated in NHS Prosthetic Clinics.
Steel Bones is a catalyst for change, creating stable, secure support for the civilian amputee community that can be scaled up across England and Wales. Steel Bones currently works with 900 amputee families across England and Wales, 150 more since April 2022, when the Grant began. 
Steel Bones was established soon after Leigh lost his own leg following a botched operation when he was 25. Following his discharge from the hospital, Leigh found a lack of support and information regarding what had happened to him. It was fatherhood that inspired Leigh and his wife,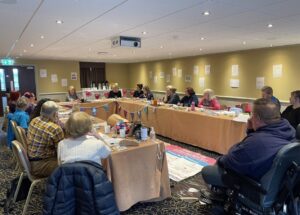 Emma to start Steel Bones as a support group, which quickly snowballed into a registered charity due to demand.
Colin, Chairman of Steel Bones said "It was fantastic to be able to meet Jatinder in person after many online meetings working together on our application and to introduce her to some of the people whom have benefitted directly from the grant.  Big thank you to Heath Court Hotel and to Jatinder for making time for us"