KIm and Andy travelled to Naidex to review it for Steel Bones Community and they had a blast !! Here's a link to a webinar they gave to our Online Coffee Catch Up meet up which you might enjoy watching: https://www.youtube.com/watch?v=jCL0ZsWbu0k
Below is all their fantastic information and review of the event, they picked up oodles of fab tips and companies which might help you – please take a look through it all and let us know what you find useful.
Here's Andy's Review: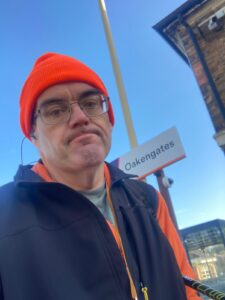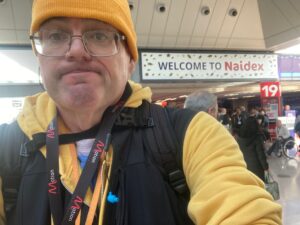 Ive held a Gold Medal from our home Paralympic Games.
There aren't probably that many people who can say they've been able to hold a Gold Medal from the London 2012 Paralympic Games, but I can now say that. It seems strange to be able to say it but since losing my leg in May 2021 from complications due to been a type 2 diabetic I've been making reference to the fact that I'm a dieting diabetic, a potential Paralympian, trying to get home. Although one of those is now ticked off after having finally managed to get back home in February 2023, my goal of becoming a Paralympian still burns strong a bit like the Olympic/Paralympic flame. If what occurred at the first day at Naidex 2023 is the closest I get to achieving that goal then at the present time ill be happy.
So what is Naidex and why should other amputees look to attend.
Naidex offers a fantastic day out for the disability community with plenty of inspirational talks, entertainment and practical solutions and services to enhance your day-to-day life. Whatever the stage of your disability journey, Naidex aims to support you and celebrate you with a fun, inspiring and entertaining day out. The seminar programme covers all aspects of the disability journey, including families and the transition to adulthood, education and employment, lifestyle and leisure, sex and relationships, and more whilst featuring some very inspirational speakers. Plus, there are some fantastic features for you to enjoy with friends and family including the adaptive climbing wall, the mobility test track, the village green and much more.
Getting to Naidex.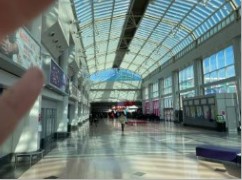 Living in Telford, Shropshire my journey to Naidex was relatively painless. Both days I travelled in by train wearing my prosthetic leg. The journey took just over an hour on the first day as the train was a direct service, on the second day it was a stopper which took slightly longer but still arrived at the NEC in plenty of time.
Having been to the fair in 2022 I knew how to get to there, but it was well sign posted and I was able to walk to Halls 19 and 20 in plenty of time. If you are in a wheelchair there is a shuttle bus service to the venue entrance which was running the whole event. The Naidex website www.naidex.co.uk provides excellent information for those looking to attend the 2024 event.
Entering the show
Once at the venue I ventured over to the help desk and having pre register for my ticket I showed them my email which was then scanned and printed out and I was handed my pass on an appropriate lanyard. The show was split over two halls and there were two appropriate entrances. Once the initial small queues had entered I made my way in , had my pass scanned and was given an appropriate Show Guide which showed the agenda for the 2 days and the floorplan and exhibits available.
Going up high.
After finding somewhere to sit and reviewing the show guide I made my way over to the Adaptive Climbing Wall. Whilst most sane people wouldn't go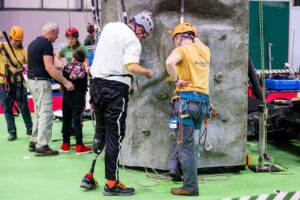 within a mile of it after visiting last year I've become a bit hooked on the old climbing. You're not going to be seeing me in the next Mission Impossible movie pretending to be Tom Cruise but I do like to push myself so on both days I headed to the wall to see how well id far this year. Last year was my first experience at climbing so I really struggled with understanding its more about been able to use the upper body to pull you up rather than the pushing with your feet. Which when you've got large feet and the pegs from the wall are rather small they'd keep falling off. After a bit of a failed attempt the first time I was swapped to another line and gave it a second go. Okay I didn't get to the top but I worked up a good rhythm and was making good progress but in the end my arms weren't strong enough so down I came, back to earth without falling over. I would try again the next day and having gone up the same line as before I was able to get that little bit higher again not all the way to the top but that bit better than the time before. I was happy and contented that I pushed myself that little bit further. On the second day I met Molly from the UK Paraclimbing Collective and two members from the West Midlands Paraclimbing Club which climbs on a Wednesday at the Queen Alexandra College in Birmingham. Who knows I might pay them a visit.
Looking around the stands
Next on the plan was to have a look around the exhibits. On day one I didn't have a clear focus on who I wanted to see. Sporting my Steel Bones T-shirt and in search of Kim, a fellow Steel Bones Coffee Catchup Host and Family Mentor who was also at the show I ventured around looking out for anything which might catch my eye. As normal at these types of show they have a lot of free merchandise in the form of bags ,pamphlets ,brochure, magazines etc which help advertise there products and services. I was somehow drawn to the wheelchair particularly the orange ones so whilst making my way around in amongst the small crowd I took the opportunity to speak to anyone who was in an orange wheelchair trying to see what make their chair was, whether it was available on the NHS. I met a lovely young lady called Maddie (more on her later) in an orange chair who was going to be speaking on the second day. Right I thought I have got to attend her seminar.
Speaker Sessions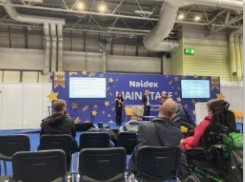 One of the major attractions to me about the show was the availability to be able to listen to guest speakers talk about their own experiences and how they have been able to led a full and busy life even with all the difficulties been a disabled person can bring. During the two days I attended a seminar on the work underway to make spaceflight more accessible and what challenges and opportunities this may bring. Listened to In Conversation Chats with Lauren Steedman, MBE and Professional Athlete and Paralympic Champion and Steve Thompson the Former England Rugby Player and World Cup Champion. And a Travelling with a Disability talk on the available of accessing an inclusive future. There were 4 different stages which had lots of different discussions and topics on and were most insight and informative.
Meeting the Paralympians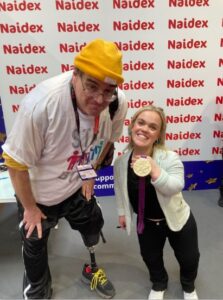 After finishing the talk on Space Travel and Learning to Flight with a Disability. I went to try and find somewhere to get some lunch and in the process, I found a group of people waiting to speak to Ellie Simmonds OBE. This was an opportunity not to be missed. I joined the queue and when I reached the front of the queue I walked forward and shook her hand. She was holding one of the five paralympic swimming medals, a gold medal from London 2012. I asked if I would be able to hold it she said yes. I was surprised at how heavy it was. I got someone to take some photos of me next to Ellie. I did want to ask whether I could take it home to show my dad and bring it back the next day but thought better of it.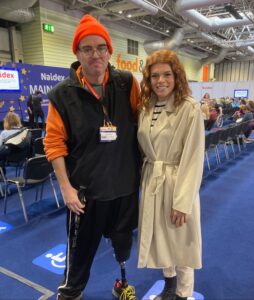 On day two I got the opportunity to met Lauren Steedman who didn't bring her medal with her. She explained how when she was at school her maths lecturer didn't know that she was an amputee until Lauren struggled to measure angles when doing trigonometry. Since then she will go around without feeling she needs to wear her arm.
Meeting friends from other amputee groups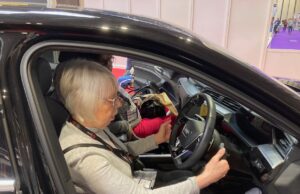 I tried in vain to find my friend Kim but was unable to locate her so I met up with some friends from the Nottingham Amputee Group at the local Wetherspoons pub outside of the venue. I find these events are best done with friends or colleagues as it seems to give your more focus and you don't seem to drift around the show. Also on the second day I had a plan of which particular stands I wanted to visit and get some information from. Although in the end I didn't manage to get around to see them all which was a little bit of a shame. After lunch we had a look around the stands until we got split up when I spent a little bit too long taking on one of the stands.
Wheelchairs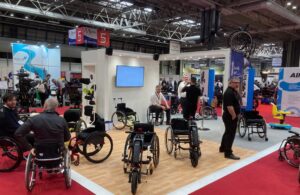 During the second day after visiting the climbing wall again I took some time to look more closely at the wheelchairs which were available. I tagged onto the end of a discussion another lady was having with her daughter about getting a lighter chair and I was particular looking for a folding chair. However after getting to see the different model's side by side it wasn't as simple a choice as I thought. The rigid frame was lighter than the collapsible model and stronger but was still of a similar size with the ability of the folding back. The range of different colours and some usual information I found out about the option that you can still have your wheelchair services look after the support of the wheelchair if you want to buy a better chair than is on offer from them by paying the difference. I was also told that sometimes you will be offered the very basic chair as well when much better ones are available. I left the show with lots of things to think about when looked at my next wheelchair.
Wheelchair Sports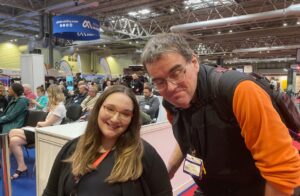 I mentioned earlier than I had met a lady called Maddie who was giving a speech on the second day. Having looking in the booklet I found were she was speaking and when and went over to the stage. She was very impressive and motivating about how she had pushed herself into doing things way out of her comfort zone. She described how she was able to dead lift an amazing 200 kgs. Very impressive, I thought. After going and having a chat to her it became even more impressive when I learnt that she was actually doing this with one hand as she doesn't have any grip in the one hand and also found that she is potentially going to look at having an amputation due to a medical condition she has. I explained my situation and that all was not lost and given her drive and willpower that she would be able to excel at this if she did decide she had to have an amputation. I had hoped to get a chance to try out the wheelchair basketball but I spent to long talking to Maddie but did get a chance to speak to Andy from Make a Change.
Chatting to others after leaving the event
After rushing around the last few stands I made my way back to the station and then catching the train home back to Telford via a stop off at Birmingham New Street to pop into the city centre to find another pair of orange trainers, fortunately they didn't have any. I met and chatted to a number of wheelchair users on the way back who had all been to the show and had all found it extremely interesting.
Should you go.
I have now been to four days of Naidex over the past two years. They is always a lot to keep you occupied and fill your day. It's a great opportunity to find the last tech, products and services which are available. You will met others in a similar situation to yourself who have problem been through similar issues, you'll get to try new sport, listen to well know celebrities and get a chance to speak to them. You can try out that new wheelchair, new car or just look around.
The agenda and exhibitors are confirmed well in advice and are available electronically before the day. The NEC as a venue is excellent although if you are walking from the station it is a bit of a trek. It might be a bit a journey from East Anglia and an early start and a nights stay in these times may not be something that everyone can afford but you will certainly find it very useful. There are other similar events in the calendar with one taking place at the Excel Centre in London on the 6th and 7th of July 2022 called Disability Expo. Further information can be found on the following website. https://www.thedisabilityexpo.com
Hope to see some of you there. Happy Easter
Andy Parker, Steel Bones Family Mentor, andy@steelbone.co.uk
Here's what Kim found at the event: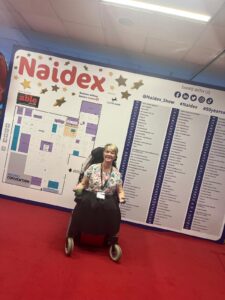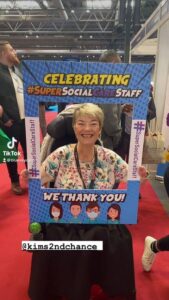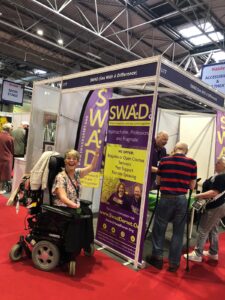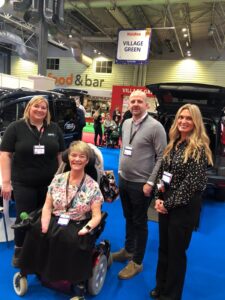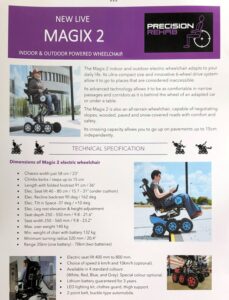 The show was fabulous this wheelchair caught my eye & i straight away said I need one. If you're a wheelchair user you will understand, as we all know especially in a power wheelchair how hard it is without a dropped curb. We all struggle with that, but with this wheelchair from www.precisionrehab.co.uk you wouldn't have a problem it goes up a 15cm curb!  Now you know why i said I need one! Watching the demonstration made me want one even more, it's incredible how it goes up & down so easily but also how in turns on a very small area too. They also had lots of other wheelchairs for all kind's but this one really caught my attention. You cans ee a video of the wheelchair in the link at the top.
I came across this company called TED 360 support, with several options of help/security. Great for anyone who like myself is vulnerable or needs to go out & have independence but worried about being alone.  I would personally love the 4G gps Button they also do a 2G gps button & a Support package great for those who live alone, it offers so much & possibly better than the usual lifeline button. The 4G gps would be great for me as I'm a quadruple amputee & want independence back going out alone, I always try to take my phone but have occasionally left it behind & then my watch won't work! This could leave me extremely vulnerable and stranded so to have the reassurance if I go out I wouldn't have to worry because this works anywhere & everywhere! It's something that would keep you safe & certainly not as vulnerable when going out alone! TED LINK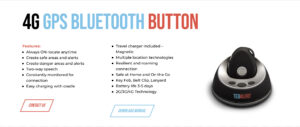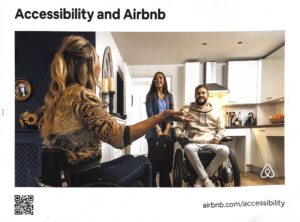 I came across this company but didn't actually get to speak to them because it was just so busy.  But seeing Airbnb & accessibility made me think how amazing this was & everyone needs to know it's out there for us . Personally I had no idea so to find this information out I felt I had to share it with others!  Accessibility it's something able bodied people have to think about unlike disabled & especially wheelchair users like myself! https://www.airbnb.co.uk/accessibility?_set_bev_on_new_domain=1679584360_ZDg3YTJjZWRlZTg0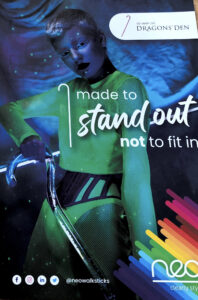 I came across this company called Neo Walk their moto is made to stand out not fit in!  Those that use a walking stick these were neon & really funky I loved them!  Disabled people should stand out for the right reasons so these would really help! https://www.neo-walk.com/?gclid=Cj0KCQjw8e-gBhD0ARIsAJiDsaUlAis9vNk-xTZYQKKhhOYblLecoAauWecFWtRe9yl-_fbrxy2CCFAaAv_oEALw_wcB 
I found this fab company: The Blue Sky Social Care Card. It's an ID card that gives you discounts to lots of things, it's for people in the care sector because I used Direct Payments to pay my PA's I can sign myself up & my PA's it's just £5 per year but has some amazing benefits.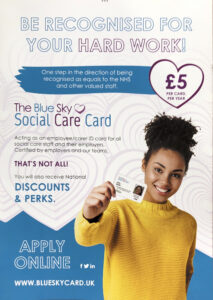 I've decided to sign up my staff & myself, it was great chatting with them & I thought it was excellent, I might even get my husband a card although he doesn't work for me you can also get them for unpaid carers! Companies can sign up or individuals or charities! https://blueskycard.uk/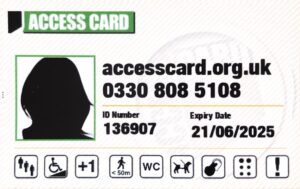 Another great membership is Access Card: I didn't get chance to talk to them but listened to them talking to someone else, it's all over the Uk great ID card again. Lots of discounts to different things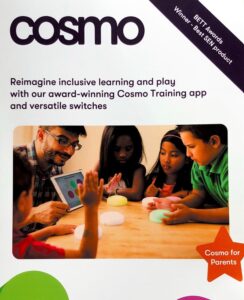 I came across this company called Cosmo this was actually really great, lots of different games to keep children & adults entertained, I think it's a sensory switch with learning involved.  The switches can be set around a room to encourage exercise up walls & all kinds of things helping keeping everyone moving! https://www.inclusive.com/uk/cosmo-excel.html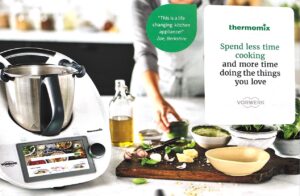 I came across this company called Thermomix …Oh my goodness I want & need one, these are amazing they will cook your meal & wash up afterwards! You select the recipe it puts everything in your shopping basket, then when you go to cook, it tells you what to add & when, it chops, blends, mixes cook's the lot. As a quad amputee when I get my hand transplant this would be amazing I won't have strength to cut much for a while so this could be life changing, making things so much easier!
https://www.vorwerk.co.uk/en/c/home/products/thermomix/thermomix-tm6.html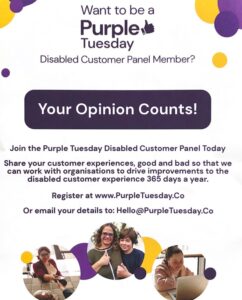 I came across this company called Purple Tuesday, they're trying to make disability improvements everywhere.  Great for any disabled person to be aware of, it's easy to sign up on their website! https://www.purpletuesday.co/
The show was fabulous this I came across this company called DisabilityExpo. A disability exhibition at the ExCel London 6th & 7th July
This will be great for all disabilities! This looks fantastic I'd like to go. https://www.thedisabilityexpo.com/