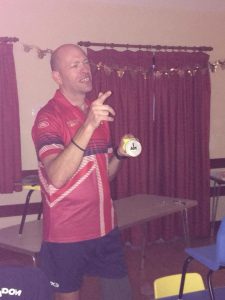 This is the first Christmas for Steel Bones UK, and we were delighted to host a special party for amputee families and friends.
Held on Saturday 2nd December, in Chippenham, Cambridgeshire, the party was a huge success with families coming from as far afield as Norwich!
For the little ones, we had arts and crafts, face painting, a reindeer food factory and even a visit from Santa Claus himself!
In addition, it was a real honour to have our Trustee and Invictus Medalist, Wayne Harrod, as a keynote speaker, talking about his journey to the Invictus Games in Toronto, earlier this year.
We also heard from Paul Clark, an avid supporter of Steel Bones UK, who is on a mission to climb Mount Snowdon in May 2018 with a group of amputees, and other supporters to raise money for our charity. A huge thank you to Paul and his family.
A special thanks to Gabbi Furze and her entire family for helping to organise this special event, and enabling all of our families to come together and celebrate the first ever Steel Bones Christmas!
Thank you to all who attended, and for those that couldn't make it, our friends at Sieve Studio and Pocket Rocket Marketing have produced a fantastic video of the highlights – just for you!
We would like to take this opportunity to wish you all a very Merry Christmas and a happy and healthy New Year!
From all of us at Steel Bones UK!