All at Steel Bones are so excited about Christmas coming soon, not just for the Christmas magic but also for a new year to begin.  We know this can be such a very tough time for so many and it will be very different year for all of us. So we have been working on some special festive surprises.
Thanks to our amazing website elves you will see an Advent Calendar of Hope to open daily from 1st December.  Just click on the Father Christmas face which will appear on every page of our website.
We are currently working with some wonderful elves to bring a special Christmas pack to every registered family we work with. This is designed to be a virtual Christmas hug.  Just a few small items which we hope you will have some fun with.  Many of these items have been donated and VERY SPECIAL THANKS goes to the Barringer Walker Family who immediately jumped at the chance to spread some Christmas Joy plus the wonderful Tesco Team in Newmarket especially our fabulous Community Manager – Zara, COOP, our friends at Party Malarkey, Limelight Design & Print and Sarah McFloof Art.  Here's some of these elves hard at work: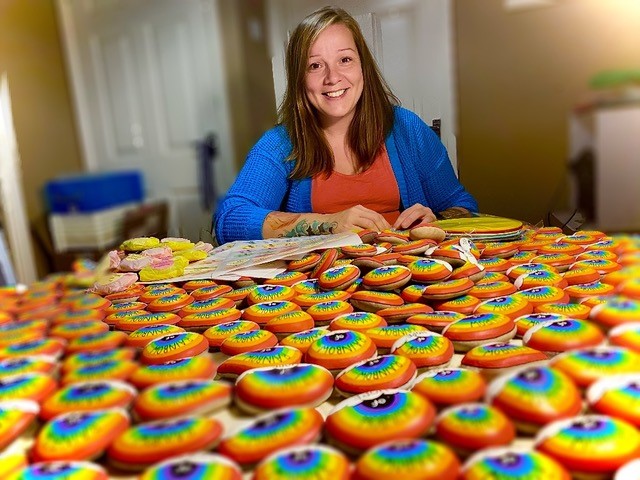 (More photos to follow shortly) THANK YOU SO MUCH TO THE STEEL BONES ELVES FOR MAKING OUR BIGGEST PACK PROJECT YET POSSIBLE. 
In lieu of our usual festive shindig we are having a weekend of fun on zoom, yes it won't be the same BUT it will be a chance to have some fun and take some time out as a family making the most of what we can in these tough times. Here's the plan and we would love to see you:
SATURDAY 12TH DECEMBER 5PM – 7PM CATCHPHRASE AND QUIZ FUN there will be prizes up for grabs
SUNDAY 13TH DECEMBER 5-6PM – a ZOOM SHOWCASE kicking off with BINGO and ending with a raffle.  Our Steel Bones singers are working on a special surprise and we may even have the BIG RED MAN popping in 
Each family will have a BINGO card and a raffle ticket in their pack. You can buy more raffle tickets and these details will be in your packs.
In between this we shall be asking for you to post up your festive photos throughout the weekend. There is a £50 amazon voucher up for grabs for the most creative Christmas tree and another £50 amazon voucher up for grabs for the best festive photo and you know we love to see amputee items featured so we cannot wait to see what you come up with.  Anyone can join in with this.
Most importantly, we hope you have fun and we wish you the very, very best this Christmas.
For any families who are not registered with us yet, do not fear you can still join in on the fun just email us hello@steelbone.co.uk or ring 01223734000  We will not be able to send a pack as we have none left BUT we shall certainly ensure you are involved.
We know Christmas is often the most difficult time of year for many people. If you find yourself feeling low and struggling to get through the days please let your GP know. Here are some useful websites and phone lines which are extremely good:
Samaritans are on 116 123 open 24/7 you can also email them which men sometimes find better on jo@samaritans.org There's also a self help app on their website.
MIND is on 0300 123 3393
We know it is even tougher this year, to be away from those we care about but know you are not alone. Keep connected to as many people as possible via phone or online and take it one day at a time.
With all very best wishes for a safe and well Festive Season
All at Steel Bones x