Thank you so much to all the families who were able to celebrate with us last weekend. We just decided 2 weeks earlier to host an event as it just felt too weird without marking it so thank you to everyone for going with the flow of it.  Our team of amazing volunteers packed and mailed 100 packs across the country from South to North, East and West.  We had so much fun and hope you did too.
It was fab to see so many of you getting stuck into your fun at home and we had AMAZING photo competition entries.  Our Ambassador, Alice Mason judged it wonderfully and had the toughest job of the day !! THERE WERE ALL FANTASTIC
OUR PHOTO COMP WINNERS WERE: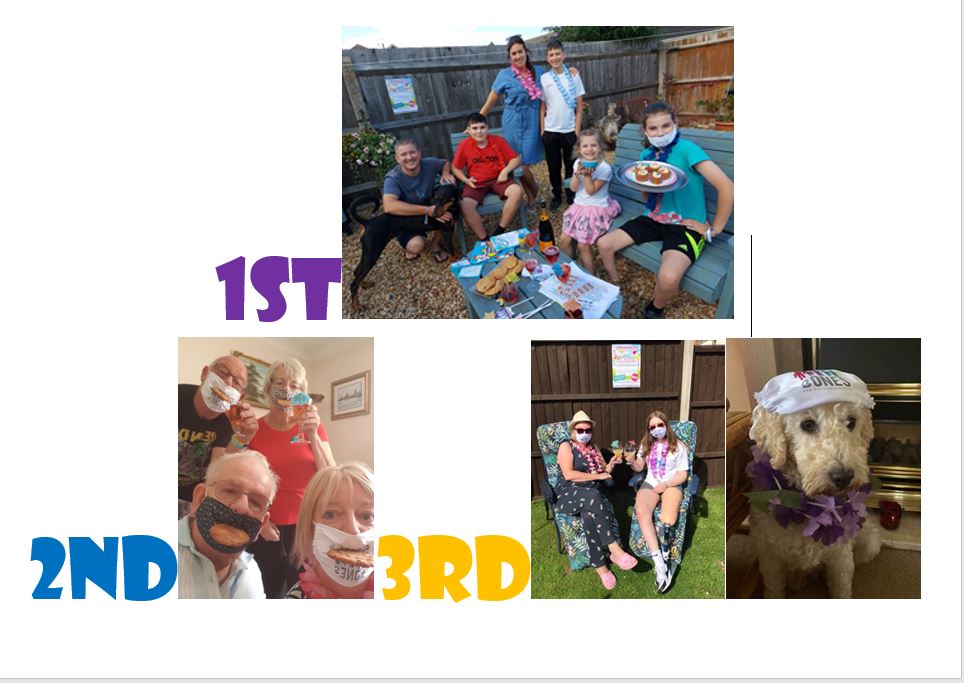 We do appreciate all of you tuning into the zoom showcase and bearing with the technicalities. We were honoured to be joined by the Vice Lord Lieutenant Benjamyn Damazer who officially opened the event for us and joined in on all the fun.  Just in case you missed any of it here is the link to the YouTube live stream https://youtu.be/v8dnvdkd4ow
We kicked things off with a fantastic rendition of HAPPY BIRTHDAY STEEL BONES with Talented soloist Joe Pope who then bravely and superbly got everyone on zoom singing away to MINNIE THE MOOCHER.  This was just the best fun, absolute madness but absolutely brilliant !! The big smiles, giggling and laughter was the most beautiful sight ! This is bound to become an annual tradition.
Plus individual video clips of the items we played:
Our saxophonist, Paul Taverner, Musical Director of the Bader Big Band https://youtu.be/A7ODqXGDAnA
Our first ever singing challenge: https://youtu.be/4zHK9cktK-g and their individual videos: https://youtu.be/OlsJN-Tqd10
Daisy and Alex Demetre gave a powerful talk through keeping focussed, staying steady and getting through the toughest days followed by Daisy beautifully singing 'this little light of mine, I'm going to let is shine'
Here's the powerful poem which our Ambassador, Alice Mason read:
You will also see some TEDX talks from amputees plus one from the amazing Demetres:
https://buff.ly/3fIhVXL and https://youtu.be/6pe0zJA5tP8
We also  raised a staggering £650 through so many of you buying raffle tickets, making donations or holding your own fundraisers.  This pays for 65 amputee families to access 121 support. THANK YOU THANK YOU THANK YOU !!
Once again, thank you for making it so special. The smiling faces were just the best, it felt amazing to unite.
WE CANNOT WAIT TO SEE YOU ALL IN PERSON. Stay well and safe from all at Steel Bones 😊