Ok, so here goes.  Before Covid 19 I used to be a confident traveller, who would develop cabin fever if I hadn't been back to Belgium or some other foreign climb for a few months.
I would travel Europe and the UK in my powerchair, who is named Ensor after the Flemish/English artist James Ensor.  I never encountered any problems in Europe and found most problems here in the UK.  When Covid 19 hit I didnt leave my home for 27 months my gp telling me I would die if I caught it.  So when I re-emerged into the world on 9th May 2022 I was very nervous and didnt even recognise my home town let alone think about going back to the safety of my spiritual home, Oostende Belgium.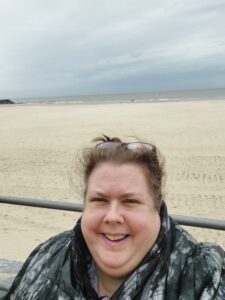 September 2022 saw me losing my right leg below the knee.  It was a huge shock but also a blessing.  I left the operating theatre a changed woman, my zest for life was back, my need for adventure and travel had also returned.  I spent a few months playing the good patient card before announcing one day that I was going 'home'.  A friend agreed to travel with me, as she had never travelled on the Eurostar or been to Belgium.  Tickets booked my excitement began to build, my only nerves were how I would get in and out of the shower with my electric wheelchair.  Previously I had been able to pivot transfer and had some balance with my right leg – also I usually had someone with me……. nudge nudge wink wink!)
So booking tickets was relatively easy   I went on the Eurostar website and booked through the wheelchair web page.  Although the tickets had gone up in price they were still a bargain.  Because I have to travel in my chair the entire journey I am able to get the £39 single tickets.  Basically I get upgraded to Business Premier instead of the normal class.  You get a free meal  and drinks with this ticket and allowed in the Premier Lounge at the Departure Station.  Also you can take one companion and their ticket is also £39 each way.  You also get assistance with baggage and a ramp to board and disembark the train.
Getting to St Pancras was the bit that worried me most.  I needed to book a direct train and because i am a wheelchair user who stays in  her chair I was able to get my tickets at a discount price.  I had to go to Bromley South to get these tickets because my local ticket office are useless.  Oh and I dont have a disabled rail card because as I travel in my own chair, I can buy the tickets in person and they see my wheelchair rather than paying £20 a year for a card that states the bleeding obvious.  It also gives evidence that ticket office staff are a needed resource.  I then had to book assistance and I used a passenger assistance app.  Journey confirmermed in 3 days.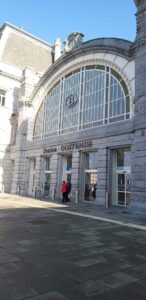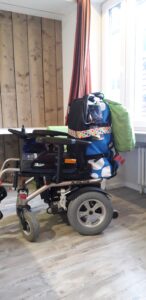 When I booked my Eurostar tickets I also booked my Belgian onward journey.  I did this through B-Rail and their version of passenger assist.  All confirmed within 6 hours.  I just needed to buy my ticket when I arrived as I was buying a multi journey pass – meaning I saved 10e on each journey.  96e for a 10 journey pass so my single journey was 9,60e instead of 19e.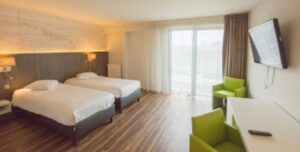 I booked a disabled room in the hotel that I have been using for the past 20 odd years.  Requested extra shower chairs, extra loo roll (dont ask).
Our journey was amazing the Eurostar staff looked after me like a princess much to the amusement of my travel companion who had already offended me by the time we arrived in Bruxelles – My name is Gill NOT the wheelchair person, but she firmly told me she had worked in social care for over 20 years and it wasnt offensive.  She didnt feel the same when I referred to her as a 2 legged freak and quantified it by saying she did have 2 legs!
On arrival at Bruxelles, we were met off the train and taken to the ticket office where I collected the tickets/pass.  And then onto the platform to meet our train.  Ramp ready and waiting.  On arrival in Oostende the ramp was also waiting although I was very teary at this point as I had convinced myself I would never return to Belgium or see my Belgian pals again.  We wheeled/walked to the hotel where reception greeted me like a long lost family member.
The next day we returned to the station to collect the free manual wheelchair that I had booked from Phillippe at FietsPunt.  This meant I could get around the hotel room without waking my friend up going beep beep every tine I went to the loo in the night.  FietsPunt were lovely and loaned me a wheelchair that was far better than the one Bromley Wheelchair Services had provided me with to use on a daily basis!
I had a fantastic few days out there, met up with friends, made new friends – did things I thought I would never do again. And did things I probably shouldnt have done lol.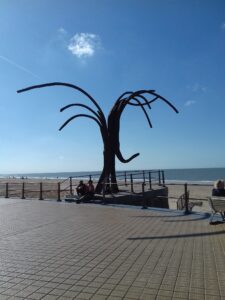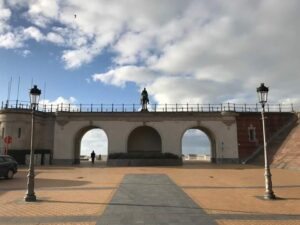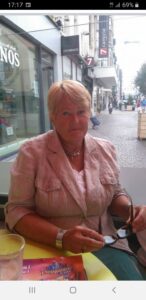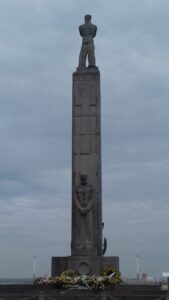 I find Belgians far more accepting of disability than here in the UK.  Everyone was polite, ultra helpful and no one stared.  In cafes and bars etc I didnt have to ask if I could charge my powerchair, they offered.  I already had the little black bog book which the councils along the coast had produced with accessible toilets with their measurements and what grade of accessibility they met.   The only thing I found odd was buying tickets to visit the EnsorHuis. They asked for proof of my disability  er im sat in a wheelchair missing my right leg, but still they had to see something official to conform it.  So I showed them my blue badge that is no longer valid in Europe – they were happy with this- Belgian bureaucracy at its best!  This more tickled me than anything else.
Trams and busses are wheelchair accessible although you do have to be careful with which stops you use to get off. More details on these can be found at  delign website.
Within a few days of returning to the UK  I had booked to return again in May – my lust for travel was back.  I have a travel diary which has TIT on tour written on it, not what you are thinking it stands for Travel Is Therapy.
My May trip was amazing and not once was I referred to as The Wheelchair Person although Raasdonders was mentioned a few times!
So now that was 2 trips under my belt, the biggie is approaching in September. We are taking my 80 year old Mum (in my manual chair for travel safety and then her walker once we get to Oostende).  2 friends are coming with us so that's 2 wheelchairs and 2 walkers.  Couldnt get a taxi to get us to St Pancras so I have hired a wheelchair accessible minibus to make sure we all get that far in one piece (crikky that gave my heart a work out when I got the quote but to know mum will be safe I would pay my last penny)
I have attached some photos and if anyone has any questions please get in touch.  I have plenty more photos.  The lady in the photo is Nelly my childhood pal from Belgium