Steel Bones were thrilled to host another Celebration Day in Isleham thanks to the kind permission of the Isleham Parish Councillors and The Beeches. This is a free day for amputees and their family members to join, some of whom will only just be overcoming a recent amputation and it can be traumatic for the entire family.
Over 350 people attended the event.  People travelled far and wide to attend, from Durham, Wales, Sussex and from across the region to join this special day for the amputee community.  To make it extra special we were joined by the Douglas Bader's Big Band who were amazing.
The day kicked off with Acro Iris Samba Band welcoming everyone, Chedburgh Community Choir performed including a rendition of THIS IS ME.  This was followed by a whole host of activities including crafts, a Petting Zoo, face painting, canvas painting, pebble art, lego, Magic from Wayne Goodman, Holistic taster treatments with West Suffolk College, Inflatables and trampolines.  There were also workshops in benefits, wellbeing, prosthetics, RELAX KIDS and running.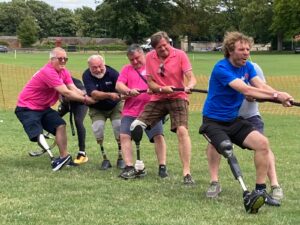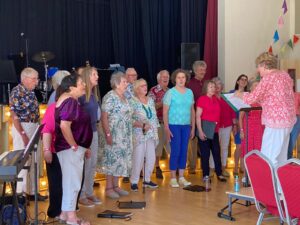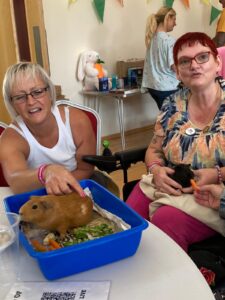 The day concluded with an inspirational Q&A with a Panel of amputees of all ages.  Followed by Bingo and the Annual raffle.  We raised an amazing £963, which will go towards 2024's Celebration Day. Thank you to all who bought tickets and donated prizes.
Each attendee received a goody bag with some goodies inside including special treats from the Charity's Legal Partners. The Charity took the opportunity to launch our new Young Voices Committee to ensure the next generation are more involved in decision making.
Thanks to our fab photographer, Nikki Paramo we got hundreds of photos you can check them out: highlights
Steel Bones would like to say a MASSIVE MASSIVE THANK YOU TO OUR VOLUNTEERS WHO WORKED INCREDIBLY HARD IN EXTREME WEATHER TO MAKE A TRULY MAGNIFICENT DAY FOR THE FAMILIES WE SUPPORT. WELL DONE AND THANK YOU SO SO MUCH TEAM