WE ARE BEYOND EXCITED TO BE PLANNING ANOTHER CELEBRATION DAY FOR 16TH JULY 2023 AT THE BEECHES IN ISLEHAM, CAMBRIDGESHIRE CB7 5RY
ALL AMPUTEE FAMILIES ARE WELCOME TO JOIN US FREE OF CHARGE BY PRIOR APPLICATION.
THIS DAY IS FOR YOU AND YOUR FAMILY TO ENJOY.  COME AS MEMBERS LEAVE AS FRIENDS
It is a family fun day packed with:
information stands on every aspect of amputee life
workshops on prosthetics/wellbeing/finances/careers
inclusive sports tasters
a Q&A talk from amputees from all walks of life
Holistic taster treatments with a relaxation zone available for some YOU TIME!
Therapeutic Animal Corner
Inflatables
Circus skills, dance and music workshops subject to funding
Goody Bags for everyone
This is an unmissable day for any amputee family. There are only 300 places Please register ASAP at this link. https://forms.office.com/Pages/ResponsePage.aspx?id=w4LjamxACU-flpRcGpcrqH6Et1TIhI5EpGkx769YtyFUQUNYSURKUDJERVkxNVVNRU5CWlZISzdBSCQlQCN0PWcu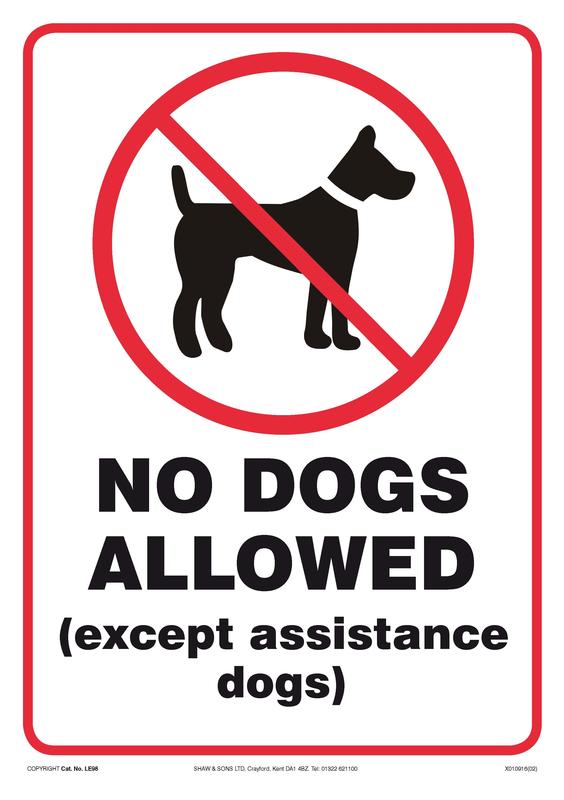 LATEST NEWS 
LAST UPDATE POSTED 13TH JULY 2023
HELLO!! ONLY A FEW MORE DAYS TO GO UNTIL THE STEEL BONES CELEBRATION DAY 2023!!
We are so excited that it's nearly time to see you all and enjoy another fantastic day together. Here are the last little reminders for the day.
The venue does not allow any dogs (apart from assistance dogs) on site so please leave your pets at home.
Please DO NOT bring them and leave them in your car.
I have attached the parking map again to this email for you to look at,
but don't worry there will be volunteers guiding you in the right direction too!
Please book on to the workshops we have running if you haven't already at this link: https://forms.office.com/e/AQVWSNBeZi
If you feel you are able to bring a donation for our raffle or tombola that would be amazing!
There will be a separate drop off point near the welcome desk.
Don't forget to bring some money if you would like to join in with the raffle, goes on the tombola, bingo games
and to buy any food beyond the food Steel Bones are already supplying.
If you have previously requested a lift from Cambridge to The Beeches you should have now received an email giving you the details of this.
If you haven't received this email please contact vicki@steelbone.co.uk
No further requests for transport can now be taken. 
The weather is looking changeable at the moment with the Met Office suggesting it will be sunny with some cloud cover with a risk of some showers but temperatures up to 21 degrees!
Please make sure you have everything you need for hot, wet, cloudy, sunny day! British summertime at its best! 😃
All we need now is to see your happy, smiley faces on Sunday! WE CAN'T WAIT TO SEE YOU!!
WORKSHOP INFORMATION
DeAR WORKSHOP BOOKERS, Thank you so much for booking in for the workshops on Sunday. Please see below the schedule of workshops.
Benefits with Wendy – 1pm – 1.20pm in the Bar Room next to welcome desk
Prosthetics with Laurence – 1.20pm – 1.40pm in the Bar Room next to welcome desk
Wellbeing with Linda – 1.40pm – 2pm in the Bar Room next to welcome desk
Relax Kids with Rachel – meet at Hall doors at 12.40pm
Running with Walid 2.30pm after Tug of War on the tennis courts or grass next to bbq depending on weather
HOLISTIC TASTER TREATMENTS If you have ticked to enjoy a 10 minute holistic taster treatment, you will find out your time from welcome desk and also from Diane who will be at the room.  The room is the meeting room next to the kitchen.  Please be mindful that our amazing therapists will do their best to keep to schedule but times may shift if there are last minute cancellations.  We have planned for 6 therapists being available so should be plenty of time to ensure everyone can enjoy some calm and YOU TIME. However, they have all given their time generously which is amazing and we know this will be such a special treat which you will enjoy.  Once you have your time please do stick to it to help things run smoothly. Let us know if you need to change asap. We have done our best to ensure those who are also attending workshops can do their taster treatment early.
We very much look forward to seeing you on Sunday and let us know any questions you have on 01223734000.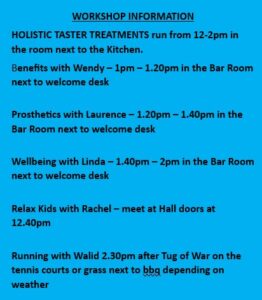 EMAILED UPDATE 29TH JUNE 2023
HELLO!
The 2023 Steel Bones Celebration Day is only 2 weeks away! Are you getting excited?! We certainly are!!
Here's a few reminders about what's available on the day.
Parking is available at the venue, attached to this email is the parking map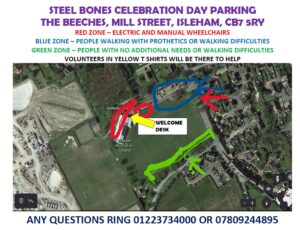 Please take a look and get familiar with which zone you think you'll be best to park in on the day.
Food and drink will be provided, just like on previous celebration days.
The wonderful Allen and Son are providing the BBQ from midday to 3pm and this year we are trialling a new system.
So, when you get your food from the BBQ you will have a skin safe stamp put on your hand to say you've had something to eat from them.
They will use the same skin safe ink stamp if you get an ice-cream from their ice-cream bike, which was very popular last year!
Steel Bones are providing one item from the BBQ and one item from the ice-cream bike for each person, if you would like to purchase more than that from them you will need to pay them directly.
Don't worry if you don't fancy anything from the BBQ, there will be other food in the kitchen to choose from,
including, vegetarian, vegan and Halal options.
From 3pm nibbles and filled rolls will be available in the main hall for you to enjoy.
Tea, coffee and soft drinks will be available from the kitchen throughout the day.
Don't forget to book on to our workshops and pamper sessions using this link: https://forms.office.com/e/AQVWSNBeZi
There will also be a sign-up sheet on the day if you'd like to join in with the tug of war too!
PLEASE LET US KNOW IF YOU WILL NEED TRANSPORT FROM CAMBRIDGE TRAIN STATION TO THE BEECHES BY MONDAY 3RD JULY.
AFTER THIS DATE YOU WILL NEED TO ARRANGE YOUR OWN TRANSPORT TO GET TO AND FROM THE VENUE.
This Celebration Day is shaping up to be another fantastic day and we can't wait to see you there!
EMAILED UPDATE ON 11TH MAY 
LATEST EMAIL WITH INFORMATION FOR ATTENDEES WENT OUT LAST WEEK:
ONLY 5 WEEKS TO GO UNTIL CELEBRATION DAY 2023!!
We thought you'd like an update on the entertainment and what you can expect at Celebration Day this year.
Just as previous years we will be having musicians from the Douglas Bader Band playing for us on the main stage. This year we will also have the Chedburgh Community Choir performing, as well at the Acro Iris Samba Band, so get those dancing shoes on!
We have an amazing magician joining us who will be walking around showing you some great tricks too!
The Chairman's raffle will be back this year. You'll need to bring some change to buy your tickets on the day and don't forget to bring some donations for the stall if you feel you are able to. There will be a separate drop off zone for these this year near to the welcome desk.
We thought a few games of bingo would be fun after the success of it at the Christmas party so these will be added to the afternoon this year towards the end of the day.
The workshops we offer at Celebration Day have always been popular and this year we're adding even more to them for you.
We will have workshops from Laurence on Prosthetics, Wellbeing with Linda and Benefit Information with Wendy. We are also adding a running workshop with Walid and Relax Kids with Rachel. Relax Kids classes aim to support the mental health and wellbeing of young people. Classes are 7 steps to take children from a high energy to relaxation!
Please let us know at this link which of these you'd like to take part in and we can get your name on the list. Oh, and let us know on the same form if you're interested in have a little pamper session too!
There's no need to worry about remembering everything that's going on, you'll be given a programme of events and where things are happening on arrival, we'll even have a QR code you can use to bring it up on your phones!
The fabulous DJ Jay will be keeping us up to date over the speakers too, and if you get completely lost look out for one of our Celebration Day Champions who will be wearing bright pink this year, they'll be pleased to point you in the right direction.
WE CAN'T WAIT TO SEE YOU!
Vicki Rees
Administrator and Coordinator
14th May 2023 Update we have Wycomb Pastures Mobile farm attending – get ready to have some cuddle and pettign time with some wonderful animals