What's your name, how old are you?   My name is Liz Armishaw+ people call me Pinky and I AM 47 years young in my head but feel like 147 in my body.
Who lives with you and how old are they? Tell us a little bit about them?  I live with Sean my new husband of about a month now,We have been together for about 9 years I always say my mum sent him only five days after we buried her I met Sean .my 26 year old daughter EILISH also lives with us She works in admin at a nursing home in Bakewell but quite often she also helps with the cat as prior to admin she worked in community care for five years in care .Mia one of our granddaughters she often stays the weekend so I often think that she does live with us her parents just happened to get the child benefit
= along with four dogs and a parrot with Tourette's We have two dogue de bordeaux's age 5 … BALOO and BRUCE 9 months along with two pugs IVAN age 4 and BETTY 1 yr.
what are their favourite colours or hobbies?  I do know Sean quite likes pink haha and Matt black and my daughter lights purple Mia when she is here she likes blue the hobbies of whole always been with both children animals mainly dogs and as a whole family we love music always have done any genre from Eminem to Pavarotti from five finger death punch no pun 2 Beethoven I have a tattoo of Bruce Springsteen my daughter has a tattoo of Johnny Cash Sean has a tattoo of slash from Guns N' Roses so I'm sure from that you can see it's a music full household AND MOTORBIKE racing BSB, WSB MOTOGP if it revs loud we love it .
When did you become an amputee?  I lost my arm in 2015 January the 20th
Have you got a name for your "stump"?   I don't have a name for my stump but Mia calls it lumpy I hope she's caught talking about my stump it might be my stomach
What was the biggest concern of being an amputee?  My biggest concern from losing an arm was the fact it would change my nursing of the future and I always wanted to work in palliative care I had nursed end of life patients for a long time and the passion was to become a community palliative care nurse unfortunately there seems no way back to the career I want wanted and now grieve over .
Were you able to work as an amputee?  I worked for four years following my amputation I went back eight weeks after my operation into a new job role leaving the wards and working in a clinic I can't say it was fun unfortunately I was a hands on nurse sport my hands became no use, I suffer terribly with instability of my left arm and weakness along with severe pain someone really clever named it OVERUSE SYNDROME , which is what it says on the tin ! I can only explain is a burning rod with a break that moves in the middle so unfortunately after being diagnosed with me also my days with the NHS are now over.
How do you spend your days?  I now spend my days babysitting the four dogs and the parrot who I have to say keeps me very well entertained unfortunately last year I was diagnosed with ME also known as CFS chronic fatigue syndrome which can leave me bedridden for at least half a week following any stress ohh anything other than the norm .
What's been the biggest challenge you have had to overcome and how did you overcome it?   My biggest challenge was actually allowing people in if I hadn't got my stump covered in anyway so much so we used to ask that people text before they call in and ask that it's okay to call despite being a nurse at the time as I'm a very big fan of tattoos I decided to have my right amputated stump residual arm tattooed and it now feels easier for people to see it then ever before.
What's your family's favourite thing to do?  As a family we would either go to banger racing at Buxton or British super bikes ohh Darley Dale motorbikes I love a big exhaust .
Have you got any funny memories that have happened since your amputation?   I received my first prosthetic cosmetic arm ,I decided after three months I could take our dogue de Bordeaux at the time Lola on a walk round the village as we live in Hope in the Hope Valley this would be the first time I'd have taken her by myself, so we set off I had a coat on I wrapped the arm with the lead and off we went feeling very proud of my littleself.
However, round the corner by the primary school Lola saw something the interested her so she pulled and pulled , no sooner had I gone on to reach for the lead but she took the arm straight out of my coat and with the lead still attached to the arm she ran off down the village, with me legging it after her.
The funny thing was nobody questioned if I was OK!
the local butcher just informed somebody that, that must be liz's dog because it's got an arm attached.
nothing as funny as village life I can't say the walkers who were opposite us at the time were impressed I was crying laughing trying not to wee and catch the dog up and their face was a picture but they weren't laughing likely thinking that's the village idiot.
When did you come across Steel Bones?  I met Emma while working in preoperative assessment at the Royal Hallamshire hospital in Sheffield and she came to me to go for an assessment prior to an operation and we got talking and that's how steel bones reached me.
What would you most like to achieve? Small or big is there one thing you hope to accomplish?  After founding ARMLESS AMPUTEES in 2015 and letting it remain stagnant while working ,I feel I can put the effort in having left work and hopefully make upper limb amputees not feel the minority they do at the minute and people actually see the hardships we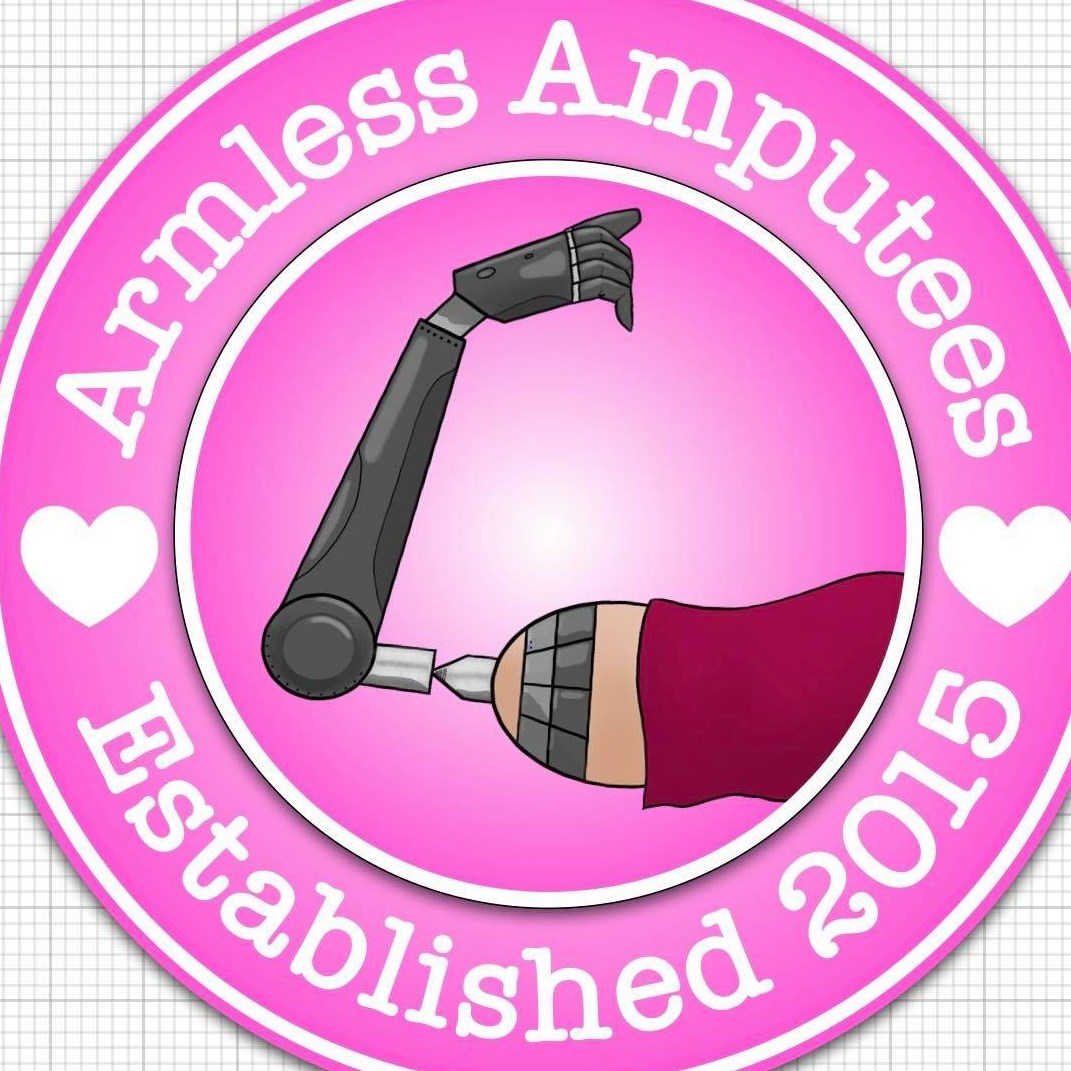 endure I want armless amputees to become a foundation charity that people can come too when in need with a request for help and then based on need /finances and a availability ,we
can make a decision either to help or direct people in thev right direction to those who can help .I want to become a councilor for the amputee community via online support or homebased visits .
for the upper limb community, I want to become with ARMLESS AMPUTEES a place they can come to for advice re benefits, physio and support. I want to be the no1 group for the upper limb loss community a name that everyone knows when seeing patients with these needs and the complexities upper limb loss brings
ARMLESS AMPUTEES WILL BECOME THE ONLY AA a person with upper limb loss needs.
Ps I have 2 ARMS now I married Mr Armishaw on August the 1st…….his proposal was
On Christmas day 2014 3 weeks prior to my amputation …..I know you are losing an arm next month but will you have this one ….I couldn't say no really could I.