THE BIG BANG OF ALL CELEBRATION DAYS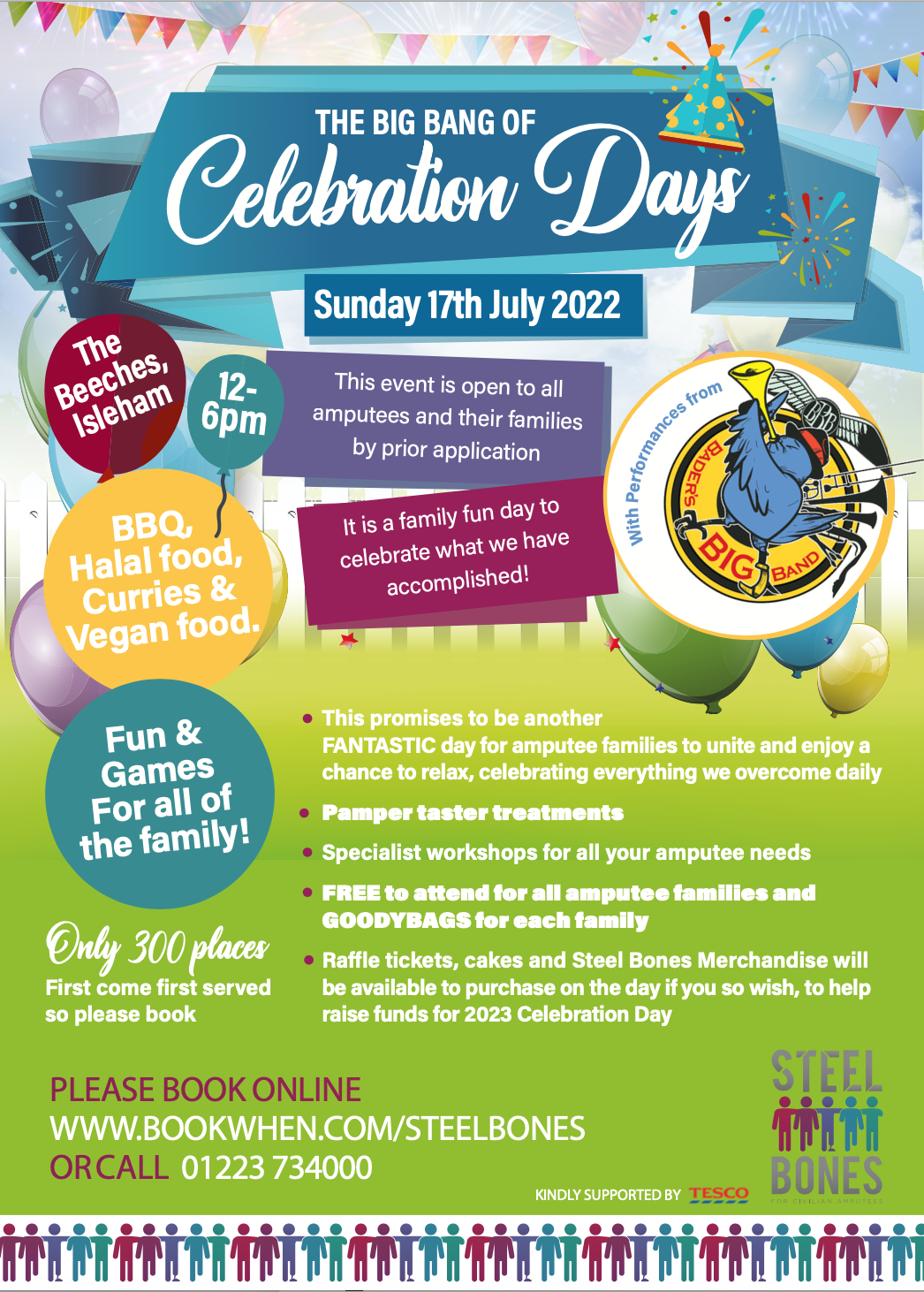 Our first in 3 years and the Celebration Day Committee are working so hard to MAKE IT EXTRA SPECIAL. We are so excited. This will see 300 people come together to celebrate getting through the toughest of times and just how far each of us has come.
This day is the pinnacle event of the year seeing 300 amputee family members coming together to:
attend workshops on wellbeing, styling, benefits and prosthetics
hear from inspirational speakers
test out holistic treatments to help them
enjoy the fun and games including bouncy castles
Try out basketball, tennis
Enjoy a Falconry display
Meet providers for the amputee sector to find equipment or items which may help them
This is a FREE EVENT for all amputee families and we also provide grants to help people travelling more than 100 miles away attend.
This year is particularly special, we will be joined by the amazing Acro Iris Samba Band to kick off the event and also the hugely talented Douglas Bader's Big Band will be performing. The Douglas Bader Big Band includes amputees who are musicians so it is open the performances will inspire amputees attending to take up a musical instrument. Bader's Big Band helped add extra excitement to the online events the Charity had to run when the Celebration Day could not happen face to face so it will be very special to have them perform for the event.
Places will get booked up super quick so we urge any amputee and their family wishing to join us to register here for their FREE ticket www.bookwhen.com/steelbones or ring the Steel Bones team on 01223734000.
THIS IS NOT TO BE MISSED AND WE CANNOT WAIT TO SEE YOU !!