Since our last ENewsletter we have held 8 face to face meet ups in Kings Lynn, Stevenage, Luton, Bury St Edmunds, South East London, Cambridge Milton Country park plus 16 fitness clubs and 6 online coffee catch ups. In total that is 44 hours of amputees uniting together. That doesn't include our volunteer meetings or get togethers.
One day we had 3 meet ups and 1 fitness club on the same day. WE LOVE SEEING YOU ALL FACE TO FACE THANK YOU SO MUCH TO EVERYONE WHO JOINED US.
THANK YOU SO SO MUCH TO YOUR TEAM WHO MAKE THESE EVENTS AND ACTIVITIES POSSIBLE and particualrly to Elevate Fitness, Nuffiled Health for hosting our fitness clubs
Here's some photos from the recent meet ups and the fitness clubs – huge progress being made in the fitness clubs well done to all the participants !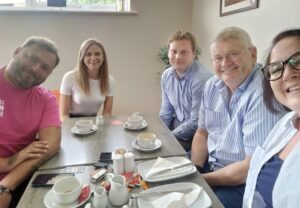 +